Valerian Cat Toy UK Home of the Best Cat Toys
PurrWhiffeez - Quality Handmade Valerian Root Cat Toys
PurrWhiffeez -Valerian toys have a whole lot of "Wiff" to make your cat Purr Crazy!!
Cats love playing with toys that contain Valerian root and infused with Valerian scent.
Similar to the response cats have to catnip, their reaction includes licking, biting, kicking with front paws and back paws (bunny kicking), rubbing their face on it, slobbering and becoming highly excitable. All great fun!.
New Retail Customers Introductory offer – 10% off your 1st order!
Get your Valerian Cat Toys from our shop Purrs In Our Hearts ...
Enter "valerian" coupon code on checkout




We also supply the PurrWhiffeez Range of High Quality Valerian cat toys for UK trade customers, Please contact us for a Trade account & Prices.

Email Us: purrs@purrsinourhearts.co.uk

We have a wide range of Unique Valerian Cat Toys from Cute and Cuddly to Strong Bunny Kickin fun. All our toys are made with high quality materials - 100% Cotton, Fleece, Faux Fur (fake fur) and contain High Quality Pharmacy Approved dried chopped Valerian root to provide variety of play and long term interest.
Some of our Current Range:-
Sheepz, Mouse Fluffz, Squirrelz, Paddy Fluffz, Grey Mousez, Logz, Fireworkz Yettiez and Birdz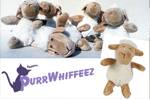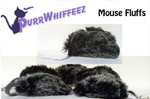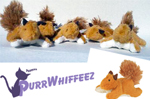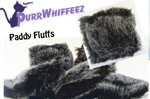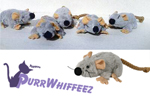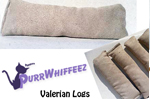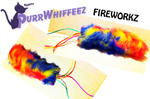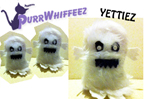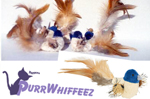 Our Halloween Range:-
Spiderz, Batz and Witchz Hatz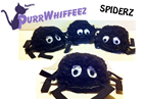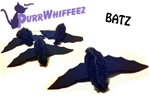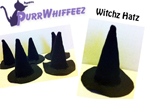 NEW! - Just Some of our Valerian Christmas range - Purrrrtastic toys for Cat Adored Christmas pressies!
Christmas Crackerz, Christmas Treez and Santa Hatz. ....... More Christmas designs coming soon!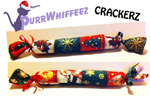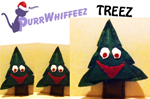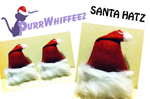 Reviews:- Valerian Toys have received great reviews on the internet from owners worldwide! Don't just take our word for it! Have a look on the internet and see what Cat Slaves say! Here's just a few recent ones:-
"Both of my Cats really liked the valerian sheep although me & my husband not so much because it smells!! ha ha :) but obviously what smells off to us smells good to them because they were both taking turns rolling around on it :)"
"Dearest Auntie Tan, Please find attached photographs of me with my PurrWhiifeez Valerian Jellyfish. I am shaking it so hard, the pictures are blurred! ha ha! Tulip xxxx"
"The Valerian toy arrived a couple of hours ago - what a reaction! My five cats are not inspired by catnip but immediately all sought out the source of this strange smell. The only problem I now have is that I will have to order more to stop the squabbling over who is rolling on it. Yes the smell is a little odd for humans but it is not that bad."
"My cat doesn't react to catnip, so I decided to try the Valerian toy to see if he would react to it. And DID he!! He got it today and has been drooling, chewing, rolling on it and batting it around. So if you have a cat that doesn't care for catnip, give this a try - it sure worked for mine! :)"
VALERIAN (VALERIANA OFFICINALIS)
What is Valerian?
Valerian (VALERIANA OFFICINALIS), a common plant used in human herbal medications, contains a chemical similar to catnip that attracts cats.
Valerian (Valeriana officinalis), a member of the Valerianaceae family, is a perennial plant native to Europe and Asia and naturalized in North America. Valerian is also known as garden heliotrope, other names include setwall (English), Valerianae radix (Latin), Baldrianwurzel (German), and phu (Greek). The root of the Valerian plant has been used for centuries to treat everything from anxiety to insomnia in humans. Valerian is one of the best-known herbs for promoting a good night's sleep and easing nervous tension. Its effects were first recognized in the seventeenth century, and since then it has enjoyed a long history of safe and effective use. Its Latin name, Valeriana, means "well-being", it is also known as cat's valerian or moonroot. The intensity of a cat's reaction to the valerian root was once used to determine the quality of valerian products in the 18th century.

Valerian Root & Cats
While the human response is one of sedation and relaxation, Cats are driven into a euphoric frenzy by the smell of valerian root and affects the domestic cat in a similar way as that of catnip. The cat attractant chemical in Valerian is Actinidine, which causes similar effects to nepetalactone (the active compound in catnip).

To humans, valerian has an unusual smell akin to sweaty socks!

Is it Safe for my cat?
Cats have been naturally attracted to the Valerian Root for centuries in the wild. In clinical studies,Cats who digested 10 mg/kg of a valerian extract had a significant decrease in restless, fearful and aggressive behaviours. Scent stimulation with a behaviour with a similar reaction to Catnip.

Valerian Root as a scent stimulation is recommended by the Feline Advisory Bureau in their "Cat friendly home" information sheet: -http://www.fabcats.org/behaviour/cat_friendly_home/info.html

Cautions:- Valerian as an essential oil (ie unnatural oil form produced for human use), should not be given directly to cats as in this form it is too strong. The dried root (natural form) or diluted spray can be infused into toys.
Some components of valerian if ingested are metabolized in the liver and may increase results of liver/kidney function tests ,Cats with Liver illness should avoid digesting the root. Used as a scent stimulation within toys, natural Valerian root is safe for cats.
Our Purwhiffeez Valerian toys all contain High Quality Pharmacy Approved dried chopped Valerian root which is safe and natural, we do not use processed Valerian oils or essences.
There are also other bestselling worldwide, quality cat toys like Da Bird Cat Toy, Da Cat Catcher Mouse and Da Long Cat Tail Teaser 36inch rod from USA available in our shop at Purrs In Our Hearts where 15% of annual profits are added to the Purrs online Cat Community Cat Rescue fund.
ABOUT Purrs In Our Hearts
Purrs In Our Hearts (Purrs) – Is a Cat lovers' online community which was started back in 2006 and is run by dedicated cat lovers whose main goal is to support / Fundraise for cat rescue centres all over the UK. www.purrsinourhearts.co.uk Come along and join us. It's free to join and we enjoy providing advice and support while having fun. All cat lovers', slaves and cat rescue members are welcome.

Purrs In Our Hearts Shop - was formed in 2007 due to the demand for the Da Bird Cat toy in the UK and as part of the Purrs online cat community to enhance our efforts to help cats in need through UK Cat Rescue. 15% of the shop profits are added to our Cat Rescue fund which is divided between reputable cat rescues as listed on the Purrs Cat Community for their needy cats in care. These include Cats Protection Branches and single run cat rescues all over the UK.
www.purrsinourhearts.co.uk/shop
Purrs was started by cat lover, Tanya Chambers, Tanya said 'I have always been a huge animal lover and have always wanted to help needy animals but my childhood dream of having my own rescue has never come true yet!! Purrs was born in 2006 from the old CatChat forum where a lot of us were members. Myself and another member on CatChat (Gill) started to organise events to raise money for rescue cats and just as we were getting close to starting the Auction 2006 event, the CatChat forum had to close so we were stuck for a place to host the auction for cat rescue hence I started Purrs.

Purrs is my way, together with the wonderful Purrs staff and members of helping the rescues and the fantastic people in them by support and holding fundraising events etc. The Purrs community has grown and grown over the years and we are more like a large constantly growing family of cat lovers and Cat Rescues all working together to help needy cats all over the UK and sometimes abroad. We now work with CatChat who are our very good friends. Both work for one goal - to spread the word on good cat welfare and to help needy cats.'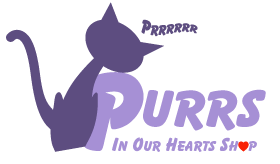 Valeriancattoys.co.uk, Da-Bird.co.uk & Purrs In Our Hearts
Supporting UK Cat rescue

Website Design: Chaptan Productions Computer Services